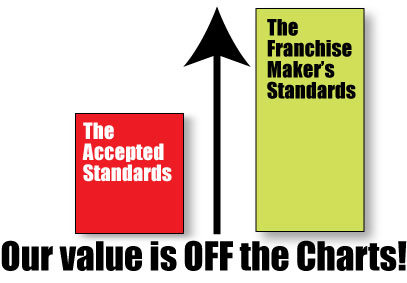 When researching how to franchise your business, it quickly becomes confusing and overwhelming. Not to mention, you have franchise sales brokers calling themselves "consultants" or "advisors" and recently calling themselves "franchise developers", trying to offer franchise development services (see our article titled, "Know the Difference Between a Franchise Advisor, Consultant & Broker"). After the smoke clears, there are really only two choices: Franchise Developers (like The Franchise Maker) or franchise attorneys.
When franchising your business, you will need the services of a franchise attorney. Actually you will need multiple attorneys who specialize in various fields. It is NOT just one attorney for everything. While the legal components are critical to the franchising process, there are also business aspects that must be addressed in the franchise development stage.
The Franchise Attorney
A franchise attorney will no doubt create your Franchise Disclosure Document (FDD) for you (which are required documents you must have prepared before you can legally offer or sell franchises). But this is all franchise attorneys will really do for you. In order to create your Franchise Disclosure Document, it is very common that the franchise attorney will simply hand you a fifty-plus page questionnaire for you to fill out, asking YOU to detail everything that you want covered in your Franchise Disclosure Document.
Even though you would be paying this firm a premium, their job is more about correctly formulating the legal language of the document and less about providing guidance and insight into building the structure of your new franchise system; or identifying what makes your business unique, attractive and competitive in the marketplace.
Furthermore, a franchise attorney is UNLIKELY to be much of help with the basics, such as: studying other like-and-kind franchise models, using a comparison to determine your franchise fees, how to define your franchise territory, franchise terms, etc. (find out how Our Strategy to franchise your business is different). And franchise attorneys are known and will admit to working off a template to save them time. In most cases the franchise attorney will encourage you to let them handle your other matters (such as trademarking) and if you choose not to let the attorney to do everything for you, then you are left to your own devices. When working with a franchise attorney for your franchise development you can be assured the franchise attorney is knowledgeable about franchising but you are on your own when making decisions and do not benefit from the business or "common sense" side of things compared to someone who has first-hand experience with franchising.
The Franchise Maker
We will create your Franchise Disclosure Document using proprietary methods and the Franchise Disclosure Document creation process is a joint effort. Every step of the way there are two-way conversations about your business and how to best position your model in the franchise industry. We will provide research and analysis on similar franchise models (your competitors) to help better structure and define your franchise program. And you are NOT expected to know about franchise fees or royalties. We will provide you with all that knowledge and insight (learn why you're going to want to choose us when franchising your business). It is also important to understand that we will not keep our hands in your pocket or build something into your franchise program that handcuffs you us or anyone else for that matter without your knowledge.  We have no loyalties to franchise brokers (read about the "Difference between a Franchise Broker and a Franchise Developer") and will not build franchise programs around the franchise broker mentality. 
Franchise attorneys are absolutely part of The Franchise Maker program but it is not just one attorney you will be working with for your franchise development. The Franchise Maker has all kinds of attorneys from all over the United States. Besides franchise attorneys, The Franchise Maker has: trademark attorneys, patent attorneys, business transaction attorneys, franchise litigation attorneys, real estate attorneys and international attorneys just to name a few. As a Franchise Maker client you will have access to all such attorneys as you need them.
One-On-One Hours
The Franchise Maker banks the hours with you.  That's right you get one-on-one time the person who actually writes your franchise program. We hold your hand throughout the entire process keeping you involved through all phases of your franchise development, helping you make decisions about your franchise program. In fact it is cost prohibitive for a franchise attorney to spend as much time with you as we do (unless you are passed onto a clerk or associate attorney but even then, you won't get the hours). You can be confident that you will know exactly what you are offering and you will understand every aspect of your Franchise Disclosure Document as The Franchise Maker takes the time to review everything with you page-by-page while teaching you how to be a franchisor. Take a look for yourself what our clients have to say. 
Let's Talk Money
Working with attorneys typically means paying a pretty steep hourly rate for their services. In our experience, very few attorneys work at flat fees and the flatter the fee the less they do for you. You could be left in a fog, not quite confident on how much exactly you will be spending (take a minute to read this piece "Are These Attorney Tactics Creative or Desperate"). The Franchise Maker is your advocate when it comes to fees and has attorneys all over the United States that specialize in their respective fields each of which charge flat fees. So part of your franchise development process with The Franchise Maker includes working with our different attorneys and other professionals at pre-negotiated flat fees.
Yep that's right, The Franchise Maker requires all its attorneys and professionals work at flat fees. No need to worry about excessive attorney fees or being surprised when you get an invoice from an attorney. In fact, it is cost prohibitive for a franchise attorney to do everything The Franchise Maker delivers. Working with The Franchise Maker means having all such talent at your fingertips. The Franchise Maker even quarterbacks all interaction with each attorney and all other professionals during your franchise development process, keeping everyone on task, on time and on budget!
What Else Do I Need to Know?
You need to get straight answers. There should be NO SMOKE & MIRRORS, just solid information for you to make the right decision. If you are talking with attorneys and not sure that is the right path for you, we encourage you to call us at 1-877-615-5177 and we will be happy to talk with you about how we will create franchise wealth for you.