The Franchise Maker® takes business owners like you through an affordable step-by-step process to franchise your business, which enables you to sell franchises throughout the United States.
You've worked hard growing your business and you are passionate about what your business has to offer. Now you are thinking about taking it to the next level. Yep, you say to yourself it's time to franchise my business. But where do I go and who can I trust to help me get it done right? The Franchise Maker is your answer! Unlike everyone else we do not simply give you a 50 plus page questionnaire expecting you to fill it out. Nope, we work directly with you giving you the individual attention that is necessary to custom build a franchise program that is unique to you and your business.
As franchise developers, we have the experience, resources and infrastructure to guide you through the franchise process, every step of the way adding value to your business.

"Be careful who you talk to about franchising your business.

There seems to be a lot of new companies that have recently popped up without any track record or worse yet, run by slick salesmen who brag about themselves in an effort to camouflage their nasty background. Some companies are misleading and identify their president using fake names, middle names or will even hide behind layers of partnerships to keep you from knowing who is really running the company. Keep in mind that every picture on this website is of real clients and all companies we list are businesses we have taken to franchise from start-to-finish. If the other people you talk to do not list clients, that is a warning sign, and if they do list clients ask them if the companies they list are businesses they have taken to franchise from start-to-finish. Or are they just consulting with existing franchises and selling them? Do your homework! The Franchise Maker® does NOT sell franchises, we have NO hidden agendas and most importantly we do NOT take any equity or any ongoing royalties from you (in other words we do NOT make money off your success). We do NOT resort to desperate tactics or gimmicks to bring on clients and

you will NEVER get a cold-call or email solicitation from us asking to franchise your business.

We do honest work for a flat fee and we are the ONLY one in the industry recognized and honored with the

Better Business Bureau Torch Award

. We specialize only in franchise development launching businesses like yours into franchising.

The Franchise Maker® has real clients and real results." Click Here to see a list of our clients

.
What is Franchising?
If you are like other accelerated entrepreneurs, you're asking "what's next?" You are eager to expand your business, you may already be searching for ways of how to do it, and saying to yourself, "I really want to franchise my business." But what does franchising my business or creating a franchise really mean? Even if you're an expert at what you do, you may not have the first clue how to move your business into franchising.  So let's start with a basic understanding as to just what franchising is about and what it will mean for you.
How Do I Franchise My Business?
Often times we hear, "I want to franchise my business, but I don't know how to franchise; how do I create a franchise program; how do I even start the process to franchise my business; what does it cost to franchise my business" OR "I want to franchise my business, but it seems too complicated." Guess what.. franchising your business doesn't have to be complicated or cost hundreds of thousands of dollars (not even close). We believe that a better use of your resources is to invest in initiatives that will further enhance, brand and market your franchise system. We are based in California, where regulations to offer franchise opportunities are much tighter than other states. We have had tremendous success not just in California, but all over the United States because we excel at making franchising a simple, painless, QUICK and EASY process for everyone.
Whether you want to franchise in California, Oregon, Texas, New York, Florida or anywhere in the United States, you will be surprised at how quickly we will make it happen. In addition, with our unique Pay As You Go Program, you pay gradually as work is completed, so the pressure is on us to perform for YOU.
Why Use a Franchise Development Company?
You are an expert at what you do, and you've taken your passion, knowledge and experience and created a successful business. As a business owner, you understand the value of hiring an expert to handle aspects of your business that you don't necessarily have a strong grasp about or fully understand. This is why you hire professional accountants, lawyers and marketing firms to manage the tasks they're adept at doing day-after-day.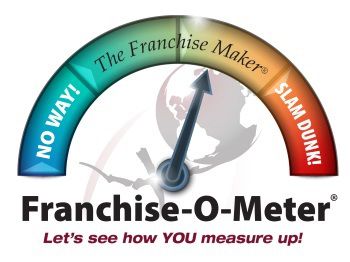 How Does Franchising Help Me Make Money?
To be honest, franchising only helps accelerate your business growth if it is done right, which all starts with how well your franchise program is set up. You can't just search for "how to franchise my business" and go with anyone. You need an expert in franchise development company, that has a proven track record of end-to-end service and a long list of satisfied clients as proof.
Quick, Efficient and Comprehensive!
No doubt franchising is a strategy used to penetrate and dominate the marketplace. It can be a powerful way to grow your business and expand your profits while developing brand recognition. You may be asking yourself "should I franchise my business?" Well there are lots of questions we have about your business to determine if it even makes sense to franchise your business. Call us and let's see how your business measures up to our Franchise-O-Meter. If franchising is the right vehicle for your business, The Franchise Maker® will help to get you there in as little as 90 days. We handle everything from franchise disclosure documents (which includes the franchise agreement) and support materials, to a complete team of professionals you will need to launch and strengthen your franchise system. Regardless of which state you are in, we make franchising your business Quick, Easy and Affordable!
What Things Should I Consider Before Franchising?
Franchising your business may seem like the dream that carries you forward into a new era of success, but you must take the time to make sure this is the right move. While the experienced team at The Franchise Maker will start by sizing up your business to see if you're a good fit for franchising, there are several things you need to consider before you move ahead.

Contact us NOW to Franchise Your Business!
Related Resources