Our Strategy: Franchising Done the Right Way
Often times, business owners are so preoccupied with immediate issues that they lose sight of their ultimate goals and objectives. If your ultimate goal is to franchise your business, having the right strategy in place will be one of the most important steps in reaching your goal.
We will show you How To Franchise with our step-by-step process that will result in a comprehensive program geared towards accelerating your franchise growth nationwide.
Our goal at The Franchise Maker® is to ensure that you step into franchising with an optimal strategy and the proper structure in place that will help prevent litigation and/or franchise failure. We know the franchise rules and guidelines by which your mission and objectives will be achieved. Strategizing is much more than just having a vision, forecasting and planning.
A successful Franchise System boils down to three things: Structure, Systems/Support materials and Training. We do all these things broken down into easy to absorb phases; the right steps at the right time.
Structure: We prepare all the required Franchise Disclosure Documents (FDD) for you (formally known as the UFOC), customizing it for your particular business while assisting you in defining your franchise structure. Once a Franchise attorney, we have lots of them, has reviewed these documents, the attorney will make any necessary changes then file it with the proper state agencies. When the state approves the documents (and some states are tougher to allow the sale of franchises in than others), you can immediately begin to offer franchises.
We don't stop working for you after the structure has been created, as that's where many new franchisors fail. Just because you have the necessary disclosure documents (FDD) and can legally offer franchises does not mean that you are ready to create successful franchisees. We make this next phase easy for you. We will provide you with all the
Systems/Support materials you will need, in template form, to effectively organize all the processes and resources that a franchisee will need to operate his/her business. These materials include a Franchise Operations Manual, Franchise Pre-Opening Manual and various other supporting pieces intended to systemize and structure your business operations into a cookie cutter format.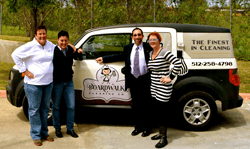 Taking all these pieces together, they cross-pollinate nicely for us to work with you to create a Training and/or Orientation program. By utilizing the structure of the franchise system (FDD), the Franchise Operations Manual and Franchise Pre-Opening Manual we work with you to determine which items to focus on when training franchisees. We assist you in creating the interview and qualification process for those interested in your franchise. We will show you how to handle all inquiries and pre-qualify franchise applicants. You will be signing an agreement with these people for a long period of time so the proper qualification process is essential and one of the most critical pieces to a successful system (see our article on "Franchisor's Biggest Mistakes").
Part of the interview and qualification process may include a personality assessment test and Discovery Day. We have teams of professionals who will assist with the development of these pieces. Most importantly, once a Franchisee is accepted they must be trained. We assist in identifying the structure of the training program that will be given to new Franchisees. After all, an entrepreneur who invests a large sum of money to brand your business must be ready to run with it.
We make sure that you are involved every step of the way, walking you through the entire process to franchise your business and create a solid franchise system. It is not a complicated process and we have all the necessary teams to put it together. As a client of The Franchise Maker®, you inherit all of our resources and are encouraged to tap into our franchise marketing team, franchise real estate team, franchise sales team and all the other teams we have that will add intrinsic value to your franchise system. After all phases are complete, we will provide you with all the resources you will need to supplement all advertising and marketing efforts for Franchisees. We intend to be there throughout the entire evolution of your franchising efforts as you journey down the road to Franchise Wealth.
At The Franchise Maker, we strive to do our best… and then reach beyond perfection.