Our Clients Share Their Experiences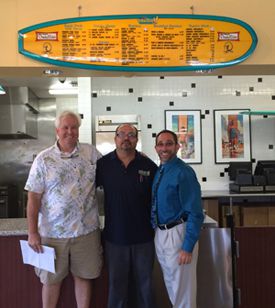 "The Franchise Maker made our franchising process considerably less expensive and far less complex than I anticipated. I was a bit concerned about franchising my business because I already had a couple of locations that was planning to sell in the future and I did not want to jeopardize that plan.
In my initial conversations with Dave he genuinely understood my concerns, explained that I can sell them as a turn-key business later with the added benefit of these businesses still being part of my system as a franchise and he put me at ease. Dave created our entire franchise program keeping all my concerns top of mind, putting together a very attractive franchise and once filed with the State we got approved rather quickly without a hitch.
I am very impressed with The Franchise Maker team and the quality of their attorneys and other professionals. Dave was also very professional, punctual and knowledgeable, as we navigated the entire process together. It was also less expensive than I had initially planned which for me was a bonus. I would definitely recommend The Franchise Maker to any business thinking of franchising."
Ed McNary, President – Pedro's Tacos

---
"Before deciding on working with The Franchise Maker, we took a long hard look at the options The Franchise Maker offers. It was clear from the initial phone call with his office staff, that Dave and his team truly are committed and passionate about our success and growth. With his proven track record and references, it settled any doubts we had about being across the nation from him. The Franchise Maker delivered exactly what they promised and exceeded our expectations. I can honestly say every scheduled phone call with Dave was never late, not even by a minute! That's speaks volume to his commitment and dependability.
We have a unique concept that The Franchise Maker helped fine tune. Everything from the FDD to the graphic artist, The Franchise Maker had us covered which made this journey a breeze. We truly couldn't be more pleased. Dave is by far one of the most knowledgeable, enthusiastic and straight forward person you could meet. If any business is looking to franchise but is overwhelmed or lost with the process, just call "Uncle Dave" with The Franchise Maker and relax!"
Brandon Dean, CEO – Silbar Security
---
"If you are reading this, then you have already made one of the best decisions toward the successful launch of your franchised business.
Dave is so good at his craft that we had our approval back from California in eight days with zero changes required.
Prior to making the commitment to working with The Franchise Maker, I had met with two other firms who really wanted our business and it was getting difficult to narrow it down. Dave insisted that I contact some of his past and current clients and ask them for feedback about The Franchise Maker and get some objective opinions about Dave's performance. Everyone I called gave The Franchise Maker a 5 Star rating, now it's my turn - let me tell you why...
Dave and his team brings to you the entire package of experts you will need who are top tier in their respective area who know how to get things done. He is incredibility knowledgeable with a deep understanding of the required language of the FDD and he takes great patience in explaining all of the nuances of franchising. He is in no way a paper pushing law firm, he brings you real world examples and ideas that will help you continue to develop your concept in ways you cannot imagine. I would enthusiastically recommend Dave and The Franchise Maker if you need a solid professional to franchise your business."
Eric Ten Eyck, President - Alpha Contents Restoration
---
"I knew I wanted to franchise my business, but I was not sure where to turn. We talked to franchise lawyers, but the fee was in the six figures and it seemed so complex. I found the Franchise Maker during a web search and I wasn't sure. But after talking to Dave, even without meeting him in person, I knew I had found my solution. I was so impressed on how he guided me through the process and the franchise disclosure documents. It's hard to believe that four months later, I am selling franchises! I can't thank you enough!"
Mary V. Mason, MD – Little Medical School
---
"Over the last couple years, I spoke to several people who claimed to be able to assist us with the franchise process. It seemed like most of them provided vague details and a wide range of potential costs. After just a few short minutes speaking with The Franchise Maker and eventually with Dave, his experience and knowledge in the franchise area became obvious. He provided clear answers and specific details to all questions and when asked about costs he could itemize the price of each task with very narrow ranges.
Once we started working with The Franchise Maker it was clear we made the right choice. Dave's attention to detail and approach are top notch. The education he provides on the subject while working together through each step of the way really opened our eyes to how much we did not know and how hard this would have been if we attempted it on our own. I was amazed when there were virtually no substantial changes or comments from the attorney or the regulators after the documents were submitted for review. I look forward to continuing to work with The Franchise Maker and Dave as we grow our system.
I would recommend The Franchise Maker to anyone considering franchising their business."
Nicholas D'Agnillo, CEO – Nexus Property Management

Contact us NOW to Franchise Your Business!