Our Clients Share Their Experiences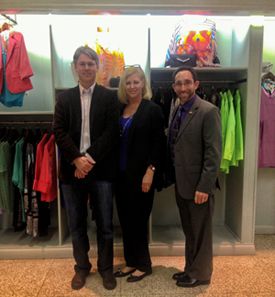 "We began looking into franchising our family owned business two years ago. After a year of frustration and wasted time and money dealing with an incompetent franchise assistance company, I made a great decision and called The Franchise Maker. From day one Dave made me feel comfortable that this process was going to be much different than what I had recently been through. I even called a few references and all gave stellar reviews. Together, we banged out the entire franchise structure and franchise documents in record time. Once the franchise disclosure documents was completed, we awarded our first franchise one month later.
Throughout the process, Dave and The Franchise Maker team were professional and always available to me. The best was when 'Uncle Dave' came to meet me and my team. We worked for two days, finishing the details. Let me say that Dave is someone you want on your team.
I would highly recommend The Franchise Maker to anyone thinking of franchising their business model."
Bryan Vaigneur, Vice President of Operations - Copper Penny
---
"About five years ago I started contemplating franchising my Just 4 Paws Pet Spa. I had no idea back then what to do or where to begin. What a daunting, overwhelming and perhaps even unattainable dream! Well, fast forward five years and I never could shake that dream. In fact it kept burning in my gut, with new ideas formulating every day. Finally I knew it was time to do something about it, but what?! How? What did I know about franchising?! I ran a small, but successful pet spa out of Lyndhurst, New Jersey.
That's when I found The Franchise Maker. Dave Waldman, Founder and CEO of TFM was literally the answer to all of my fears, concerns, and prayers.
I knew nothing about how a franchise structure was to be built. The whole process seemed so complicated and overwhelming to me. And I still had a thriving business to tend to. I was worried about how building a franchise from the ground up would adversely affect my current business.
Well, from the first moment I spoke with Kristin, Dave's assistant I knew I was in good hands. But then once I started working with Dave he set my mind further at ease. I began to realize just how turnkey The Franchise Maker has made building a franchise. Dave worked with me weekly to fully and completely submerse himself in understanding the ins and outs of my business! All while putting together the franchise documents, Dave has an uncanny ability to ask questions and absorb all that you're saying, and turn it out into a masterpiece of work. I have never been so impressed by a business person that I've worked with before. And the most impressive part is that I am in New Jersey and Dave is in California. This entire project was done via conference calls. And there was never ever a blip. Not one.
I'm so thankful to have had the great fortune of working with The Franchise Maker on my franchising project. I can now look forward to making Just 4 Paws Pet Spa franchise a huge success!
Thank you Dave and the entire team at The Franchise Maker! I could never have done any of this without them!
In sincere gratitude, Namaste!"
Erica Salvemini, CEO – Just 4 Paws Pet Spa
---
"For the last 12 years, I have been looking to franchise my business. Every time I talked with a franchise attorney or someone who claimed to be a franchise consultant, I became scared. Their fees were huge and the length of time to make a franchise was over a year. To my luck, I found The Franchise Maker and called just to make an inquiry. To my surprise, Dave Waldman, the President called me back, put me at ease and explained to me the process along with costs involved if I chose to go with them. The cost involved to franchise my business with The Franchise Maker was less than what I imagined and the time frame was super quick. I called three referrals and they too had wonderful things to say about The Franchise Maker. I decided to go with The Franchise Maker and that is the best thing that has happened to Granite America.
The moment we signed with the Franchise Maker, Uncle Dave (that is what everyone calls him) was amazing. He is exceptionally professional and a perfectionist. His disciplined work is commendable and from day one to the completion of the franchise, the process was quick and easy.
We are fortunate to get such a disciplined professional team on our side. I trust Uncle Dave 100%. He really has our best interest at heart. He is my mentor and we value his opinions, and thought in the growth of our company. Hiring The Franchise Maker and meeting Uncle Dave is the best thing that has happened to us."
Deepa Kamat, CPA, MBA, CEO - Granite America International
---
"Everything about The Franchise Maker exceeded our expectations and as this writing, we have not even met them in person. The Franchise Maker's team attention to detail is one of a kind providing comfort, guidance and flexibility throughout the entire franchise development process. This eye opening experience is something we consider to be one of the best business investments and informal educations one could ever be a part of. If you are looking to franchise your business I am confident in saying that at the end of the process working with The Franchise Maker, you will be fulfilled knowing that you had an actual voice in the design of your entire franchise system."
Brandon Cullen, CEO/Founder – MADabolic

Contact us NOW to Franchise Your Business!