Our Clients Share Their Experiences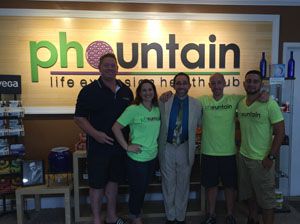 "Dave and his team are what you need and want, when you are going to franchise. You couldn't ask for a more thorough and knowledgeable staff to be on your side. The service goes beyond all expectations, they return your calls and emails immediately, answer all your questions with defined answers and this all done with hospitality and respect. The process Dave designed to get all the paperwork prepared is easy to understand, as he explains every section in complete detail. And on top of all this, the fee was very affordable and they let you make payments as you move along. This has been a greater experience than anticipated, I am blessed to know The Franchise Maker (Dave and his team) and will always keep them on my side."
Glenn Taylor, Founder – Phountain
---
"Before selecting Dave, at The Franchise Maker, I met with several other well-known franchise groups. Their services were extremely expensive and they didn't really seem to care about my business model. I wanted someone to walk me through everything step-by-step, but in an efficient timely manner. Dave's program did just that. He laid it all out and explained where every single dollar would go. There were no hidden surprises at all.

He built the structure for my franchise into something that I could never have done. It's almost as though he was reading my mind. Other companies wanted me to fill out page upon page of questionnaires. I didn't have to do that with Dave. He handled it all. This was extremely important to me because I was on a tight budget and had to continually run my business. Dave made the entire process effortless and I would HIGHLY recommend him and his team!"
Julie Rizzo, Founder - Recycled Granite
---
"Our foray into franchising our Hammer & Nails salon concept was a hundred percent dependent on developing a comprehensive franchise structure and a complete Franchise Disclosure Document (FDD) that would pass the critical eyes of the examiners in arguably one of the toughest states to franchise in, California. We also needed the approval process to be swift and that meant having a solid yet fair franchise structure and well-written FDD documents that wouldn't require time-consuming revisions. With the critical nature of the FDD, we chose The Franchise Maker. Dave's expertise and extensive knowledge of the FDD and the laws that govern them enabled us to meet our ambitious timelines, and have a franchise structure and set of documents that required very minimal tweaks by our Franchise Attorney which minimized our legal fees. Most importantly, Dave delivered on his promise to get us approved and registered to offer Hammer & Nails franchises. I have become one of The Franchise Maker's biggest fans, and come to know why the franchisors he has guided through the franchise process affectionately refer to him as Uncle Dave. He is, quite literally, The Franchise Maker, and I highly recommend him to any business owner interested in franchising."
Michael Elliot, CEO – Hammer & Nails
---
"When my husband and I wanted to franchise our sub shop we didn't know where to start and what it entailed.
We interviewed a few candidates who specialized in franchising.  We chose The Franchise Maker and Dave for several reasons:
He is extremely organized.
He listens - which is obvious in his feedback.
His information is organized logically and systematically.  I knew if his information was presented this way, he would be able to process our information in like fashion.
He is ALWAYS prompt and professional.
He is very knowledgeable.
He keeps us on task.
He is a great cheerleader, genuinely excited about our business.
He captured our vision and helped us develop it throughout our documents.  Lots of energy and enthusiasm.
He makes a very complicated process manageable.
He was honest about the process and the content of our documents.
He worked with both my husband and myself as a team.  Some entities are primarily interested in the male audience, but Dave always made sure I was online, onboard, engaged and part of the process.  He continually solicited my thoughts, opinions and questions (and I had plenty).
He does what he says he will do when he says he will do it.  This is integrity not just a sales pitch.
When we first contemplated taking on this task ourselves with online resources, templates etc., we discovered that we could not have even considered all that went into this process.  Dave packaged the process step by step and continues to provide support and resources now that our documents are filed and approved by the state.
We are serious about the success of our business.  If the foundation is weak, the entire structure would be compromised and we would probably have had to spend more in the long run to compensate for what we may have missed in the beginning.
If you are serious about franchising your business, I would definitely recommend partnering with The Franchise Maker."
Debbie Conwell, Co-owner – Green Dot Sub Shop

Contact us NOW to Franchise Your Business!