Our Clients Share Their Experiences


As franchise developers, we are constantly raising the industry standard for those who say to themselves, "I want to franchise my business." We crave franchise success for our clients and we want nothing less than raving fans. These are just a few of the many comments we've received from our clients.

---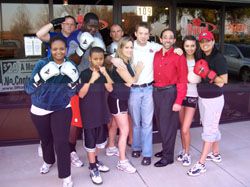 "I was really nervous about starting the process of franchising my boxing and kickboxing business. I researched other franchise competitors for over a year and even flew half way across the country to visit one. One day I put my info in at The Franchise Maker's website and immediately got a call. After one talk on the phone I knew this would be the company for me. We clicked immediately. After talking with my wife we decided to get started. We worked fast and got it done on a faster schedule than we planned for. The great thing about this company is they don't take on too many clients at one time, so they can focus 100% on me and my business. I can call or email them anytime and they get the job done. Now they have opened up their contacts to me and I have everything I need including, web developers, attorneys, marketing developers, etc. You name it and they have it. I will always keep The Franchise Maker in my speed dial. I look forward to a long relationship with them."
Shannon "THE CANNON" Hudson, CEO - 9Round
---
"I just wanted to send you a big Thank You!! Just a note to let you know how amazingly satisfied I as well as my company have been with the services of The Franchise Maker and especially with your personal dedication and hard work. I have to admit I was a little apprehensive to send payment up front with the anticipation that The Franchise Maker might take our money and not really provide the services we were expecting but we were definitely proven wrong. I was completely impressed with your timely responses, the effort you put into everything we discussed, and following through with every single item we worked together on. I would recommend The Franchise Maker services to anyone interested in pursuing franchising their business. And surprisingly you still continue to call and check on us as well as return phone calls or emails every single time we have questions or issues that arise. Thanks again for everything you have done for us, the amount of time you spent on our company and thanks for the 100% optimism during every conversation that we had. On a personal level, Dave is a wonderful person and I have enjoyed getting to know him."
Heath Legg, CEO - Superior Mosquito Defense
---
"Dave (or Uncle Dave as he affectionately came to be known) made it a great team effort all around. For us, the best part is telling people that our system was not some cookie-cutter method that we grabbed off the internet. This system was tailor made for us and reflects our specific needs and that raises not only our confidence in promoting it, but also the confidence of prospective franchisees. Like any investment, it can be concerning paying for something like this not knowing how things will turn out; but once we saw those finished books on our desk, we knew that we were offering people the best system possible and that makes the months and money worth it."
John Masek & Dave Ortiz, Owners - Bricks & Minifigs
---
"Dave Waldman, or better known to us as Uncle Dave, is a man of his word and delivered exactly what he promised. He made the process painless, put our mind at ease and held our hand as he walked us through the steps of becoming a franchise. We just received word this week that Deli Delicious is officially a franchise and we could not have done this without The Franchise Maker. The staff has a great attitude and their expertise gave us the capability to comprehend what goals we needed to reach, the steps to get there, and what to expect during the process. Thanks to The Franchise Maker we are officially a franchise and are more than grateful for their great service and help. The Deli Delicious family really feels as if Uncle Dave is a part of our family. Thanks again for everything."
Hesam Hobab, CEO – Deli Delicious
---
"We have been working closely with The Franchise Maker for several months as we put together our franchise concept and the experience has been wonderful. I had given up on the idea of becoming a franchise after talking to other companies who were over aggressive and made it sound unaffordable. However Dave has taken us under his wing and simplified the steps making it affordable and easy. He is thorough in his research, gives excellent advice and walks through each point step by step. He is open to change and has amazing ideas. Our approval process in California (a very tough registration state) was not difficult because The Franchise Maker prepared our documents extremely well. We are so excited to launch our franchise concept quicker than we thought. I would recommend The Franchise Maker to anyone who wants to make their dreams of growing BIG into a reality!"
Rennu Dhillon and Baldish Gill, Founders - The Lil Genius Kid
---
"I spent over a year deciding whether I was going to take the plunge and franchise my company. Throughout the process, I spoke with a slew of franchising companies (both consultants and attorneys) and was pitched packages well over 100K. The Franchise Maker (Dave Waldman) showed me how I could franchise my company and receive expert-level services at a much lower cost. Needless to say, I was skeptical. Would the services be high-quality? Would the project stay on budget, and on schedule? Dave gave me a long list of references, and I called all of them. Through the process of checking references, I spoke with franchisors from different industries and with companies both small and large; and they all confirmed that The Franchise Maker over-delivered and came in on (or below) budget, and on time! Now that I have completed my franchising process, I am thrilled to join the long list of happy clients. The Franchise Maker provides an incredible service, and Dave has spent countless hours consulting with me and my company over the last 4 months. Dave has been with me and my team every step of the way. His energy and enthusiasm makes what could be a grueling paperwork process enjoyable. The amount of work The Franchise Maker did for my company is staggering. Best of all, Dave's knowledge of franchising is amazing--he is an encyclopedia of helpful information and possesses the insights and experience that are only acquired after decades working in the field. I would hire The Franchise Maker again in a second."
Anthony Centore PhD, President - Thriveworks
---
"My bookstore chain was growing and growing. After much research, we knew that franchising was our best option for future expansion. I searched and searched online for venture capitalists and private firms who would assist in this process. Then I realized, "I don't want to give up a stake in my company!" I had no idea where to turn... and that's when I found The Franchise Maker. I was very skeptical at first since Dave was thousands of miles away and since I found him via a Google search. This wasn't my typical way of finding business contacts. Now, in hindsight, I know that working with The Franchise Maker is the best move we've ever made for our business. We have full control and full ownership of our franchise system, and now we are full-steam ahead!"
Shane Gottwals, CEO - Walls of Books

Contact us NOW to Franchise Your Business!