Our Clients Share Their Experiences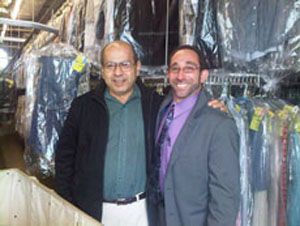 "I am happy to write about our experience with the Franchise Maker which has been has been nothing short of outstanding. Dave Waldman's knowledge of the franchising business and the network of professionals he assembled under the Franchise Maker provided us with a complete solution to all of our franchise development needs. Dave's dedication and commitment to his clients sets the Franchise Maker apart from the others. And I mean every word!"
Mike Abed, CEO – Cleaner4Less
---
"Overwhelmed. That is the only word I can use to describe the thought of franchising our fitness business. After seeking guidance from mentors, lawyers, and the internet it always led me back to the same place, unfranchised and confused about the process. When I spoke with attorneys it seemed like becoming a franchise was the most expensive endeavor on the planet. I knew there had to be a better way.
That is when I came across The Franchise Maker. From the moment I spoke with Dave Waldman I knew he was a straight shooter and had the best interest of his clients in mind. Money was the last thing we talked about, and I was pleasantly surprised at how inexpensive his services were given everything that you get. Dave really took the time to learn about our business and I appreciate how he constantly has our best interest in mind. When Dave told me that if I put my time and trust into him we could have my business franchised in only five months! Well, five months later I am poised to start selling franchises and Dave has coached me every step of the way. He even took the time to fly to North Carolina to meet with us in person! The Franchise Maker has been a blessing to our efforts to spread our mission and we will continue to work with The Franchise Maker as we grow into a nationwide brand. Thank you Dave and The Franchise Maker team for making this such an easy, step-by-step process, we can't thank you enough!"
Devan Kline, President – Burn Boot Camp
---
"When we started of the process to franchise, I was very concerned that The Franchise Maker was not local to our business. Dave immediately calmed my fears and made my husband and I comfortable from the start. Throughout the process, Dave was absolutely incredible to work with. Not only is he extremely knowledgeable in his field, but he continues to be a student of his industry as well. He made the process smooth, seamless and very efficient in a tight schedule. I highly recommend Dave and The Franchise Maker if this is your path. He has been accessible for any and all questions from everything to trademarking, connections to expert attorneys, and signing our first franchisee. I couldn't be more pleased with the entire process."
Kelly Waugh, Owner - Lucky Dog Bark and Brew
---
"My nightmare experience...
When we first decided to move forward and franchise our company we did what sounded logical and contacted a local attorney who could help us with franchising and even found it to be more affordable than we anticipated. We figured "well we can't go wrong with an attorney right"...? WRONG...Not only did that mistake end up costing us more but even worse it put our company and everything we worked so hard for at RISK! Truly a nightmare...
Turns out franchising is not a common business and it takes someone who really has a PROVEN track record and true EXPERIENCE to do things the right way and get the job done. I see franchising as a professional Fortune 500 business move and should be thoroughly researched and invested in. This is the reason why we chose to research and move forward with and The Franchise Maker team...Dave is the President and helped take our company from a game of checkers to a powerful game of CHESS. Dave jumped in and took over and still allowed me to be right next to him through the ride. His team is truly a depiction of all components absolutely needed for even the most intrinsic and complicated franchising ideas.
Thank you so much to Dave for helping us and for sharing your God given gift with us. I'd choose The Franchise Maker again and again... "
Cinthia Esquivel, CEO – Body Works Ultra Lipo Clinic
---
"We have been more than pleasantly surprised and happy with the set up our medical franchise. We looked at multiple franchise development companies and when we met with The Franchise Maker, it became very obvious that they were very attentive to detail, personable and committed to work in our best interest. Over this last year of this process which has been an arduous task, Dave has always been there for us and has had phenomenal wisdom helping and guiding us through this franchising process. Also of note is I wanted just comment how pleased we have been with all the different people that you've referred us to, and your network to help us accomplish tasks that need to be done for a successful franchise. Also I want to say thank you personally to the personal attention Dave has given us and the caring and always being there for us throughout this process. A big thank you for all your hard work it is very much appreciated."
Jan Mensink, MD, Founder – The Practice

Contact us NOW to Franchise Your Business!