Our Clients Share Their Experiences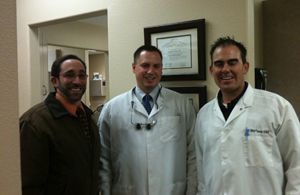 "Many people think that franchising their business is an easy process. I am here to tell you that it is a difficult task that should not be done alone. With that being said, there is nobody better (in my humble opinion) than Mr. Dave Waldman (aka Uncle Dave) in helping you to create the necessary FDD, Agreements and Exhibits to get your franchise up and running. We did our due diligence in selecting The Franchise Maker to help us and The Franchise Maker was an excellent choice. In addition, Dave was instrumental in helping us to network with the proper attorneys and accountants to complete the process. Dave is incredibly efficient and respectful. He also charges a reasonable fee for his service that in the long run will save you thousands of dollars. I give Dave Waldman and the Franchise Maker my highest recommendation."
Dr. Michael Tornow, Senior Partner - Sundance Dental Care
---
"The Franchise Maker came highly recommended to me, through a friend who had several interactions with David. I interviewed The Franchise Maker and David and expressed my desire to get the process completed "quickly" as we were about to be filming for a reality TV show that I wanted to be able to mention the franchise once it aired.... Well The Franchise Maker delivered, we worked diligently together to make it happen, I received my approval and am now able to start selling franchises and more importantly mention my franchise opportunity on the upcoming TV show. I loved working with David, he is very on task, organized and prompt! He calls when he says he's going to call and he dedicates his full attention to our assignment and he is very detailed oriented. This process can be very overwhelming, but with the help of The Franchise Maker it was a step-by-step, hand holding experience that I am extremely grateful for. It is without hesitations that I highly recommend The Franchise Maker for anyone who is looking to take their business down this road. I can honestly say, I am breathing a sigh of relief! Thank you to The Franchise Maker and David for opening doors that I thought were only in my dreams..... "oh the places we will go!!!!!"
Margo Engberg, CEO & Founder - PinkaBella Cupcakes

---
"I would like to say "Thank You" to The Franchise Maker and staff for making the process of franchising my business model seem so easy and painless. Going into the process seemed so daunting and overwhelming. Living in Hawaii adds just a bit more stress to the process than normal, due to its distance from the mainland you sometimes seem isolated.

From the start, Dave explained the process of becoming a franchise, the ins and outs, and gave me a true timeline of when events would happen. I never felt that I was alone during this ordeal, because Dave was always there explaining everything to me in detail. Dave was never bothered by endless questions or concern I might have had, he just took me through it. Though we were 2500 miles apart geographically, it always felt as if he was right next to me holding my hand through the entire process.

Dave not only works with the top of the line CPA and Attorneys, but he was on top of them making sure that they did what they were supposed to do, without having me take time away from my business.

If you are interested in franchising your business, please call The Franchise Maker, it will be the best decision of your life and business."
Jeffrey Samuels, President – $3,500 Flat Fee

---
"Thank you all so much for all your guidance and hard work in our franchising process! I really want to express my sincere thanks to The Franchise Maker for your professionalism, knowledge, patience, thoroughness and above all compassion & integrity. The Franchise Maker listened and delivered everything they had promised to deliver. The Franchise Maker's work was so thorough and well-done that the process of us getting approved with the state went incredibly smooth.

I am forever thankful for all your hard work and do not hesitate to say that if anybody is thinking of franchising a business you couldn't find a more honest, caring and reputable company than The Franchise Maker."
Lena Sisson, CEO – Lingua Natal

---
"I wanted to personally thank you, your staff and all your affiliates for all the work in completing our franchise registration. I want you to know your team's diligence and patience in taking us thru this process is greatly appreciated. Your ability to move thru large volumes of material was amazing. My biggest fear in going thru this process was being tied up in a paper work nightmare. Everyone kept everything moving at a rapid pace and formatted everything in a timely manner. I would encourage anyone considering going thru the franchise development process to utilize The Franchise Maker."
Mark Jepson, CEO - Aqua Chill, Inc.


Contact us NOW to Franchise Your Business!