Our Clients Share Their Experiences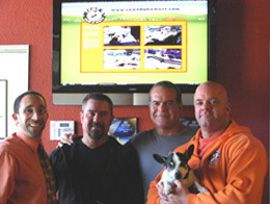 "Our experience with The Franchise Maker was and continues to be great. After our first meeting with David Waldman we knew he was the man to take our business to the next level with his positive energy, enthusiasm and no pressure sales tactics. He does what he says, follows up on calls and is on time. The Franchise Maker prepared our franchise documents and we got approved quickly. The Franchise Maker took us every step of the way making each step fun, understandable and inspirational. We have already recommended Dave the Franchise Maker and know he will be an important part of our success for a long time."
Dennis Quaglia, Severn Crow and Mikel Ross, Owners – Camp Run A Mutt

---
"I have worked 23 years in the industry working for multiple franchise companies in a management capacity. When my business partner and I started our franchising endeavor I thought we had a good understanding of the process and thought it would be fairly easy to do ourselves, were we ever wrong! After realizing how difficult the task would be we investigated multiple companies to help guide us through the process. The cost of most of these companies was astronomical and they were using boiler plate templates to compile most of our information. We wanted someone that could mold our idea into a working concept. We had concerns about finding the right fit and finding someone that could understand our vision. After comparing multiple companies we shortened our list to a few top candidates. We made the decision to fly out to San Diego to meet with The Franchise Maker. After meeting The Franchise Maker team and spending some time with them, Dave eased our concerns and we knew we had the right man for the job. Although there are a lot of franchise companies in our industry, we felt what we were doing was completely unique. Dave helped us design a unique plan that I believe make us formidable opponents in the restoration industry. Dave is focused, on task, and dedicated to making you a success; I can't imagine using anyone else!"
Scott Tetley, Founding Partner – Masters of Disasters

---
"Working with The Franchise Maker was one of the easiest processes that we have encountered in our years of business. When we first considered franchising (instead of contracting photographers in different cities) we knew that contracting photographers wasn't going to work for our realtors, which left only the idea that franchising would be a better approach. We had no clue of how to create a successful franchise, so we started doing the research and found The Franchise Maker. At first I was concerned about the distance between San Diego and Wichita, Kansas and not being able to sit across the table and hammer out important details about our business. After the very first phone call with Dave Waldman at The Franchise Maker we were not only relieved that he had a sound process, but that my concept had merit and franchising could be legally completed in only a few months. The entire franchising process was completed over the phone and internet, including CPA, Franchise Attorney and Trademark Attorney correspondence! Today we received our completed Franchise Disclosure Document and we are 100% satisfied with the outcome and excited to roll it out to potential franchisees. We are now totally prepared to take on North America and we know for a fact if we have any questions, or concerns, that Dave is a phone call away."
Anthony Litton, CEO/President – AEV Real Estate Photography
---
"What can I say, The Franchise Maker has achieved the impossible: After just 1 week of review, we got full approval of our Franchise Disclosure Documents! The documents were approved by the state examiner without a single change, just as is! Incredible as I was told by many that the CA Franchise Board was one of the toughest in the US.
Working with David was an incredible experience. We were a great team. He led, I followed, I led he followed. No ego, no waste of time, just focus on the end result and the win. David works very hard, but his success is due to more than that, he gets to understand his client and the business in depth and because of that, he can suggest, correct and lead his clients to make the right decisions. He becomes part of your team.
We are now ready to franchise 2GOOD2B, the first dedicated gluten, corn and soy-free café and bakery in the world and I know that at every step, my friend Dave will be there to lead us in the right direction. Although his first assignment has ended, The Franchise Maker is not going away, they are equipped to continue to support us and be part of our future.
I would very highly recommend The Franchise Maker to anyone that wants to successfully franchise a business. Dave is efficient, cost effective (a fraction of the cost than any other alternative) and is easy and pleasant to work with. Definitively someone that you want to have on your team."
Diana Benedek, PhD, CEO and Owner - 2Good2B Bakery & Café
---
"From our first conversation, Dave and his team made me feel comfortable with this daunting process. The Franchise Maker worked with me at my own pace and really took the time to go through the entire document to make sure I was comfortable with everything. I would definitely recommend The Franchise Maker for your franchise needs! Dave is awesome!"
Sarah Black, CEO – Fabulous Frocks

Contact us NOW to Franchise Your Business!