Our Clients Share Their Experiences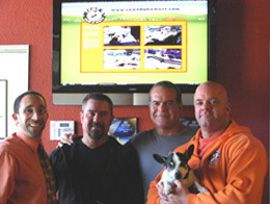 "Our experience with The Franchise Maker was and continues to be great. After our first meeting with David Waldman we knew he was the man to take our business to the next level with his positive energy, enthusiasm and no pressure sales tactics. He does what he says, follows up on calls and is on time. The Franchise Maker prepared our franchise documents and we got approved quickly. The Franchise Maker took us every step of the way making each step fun, understandable and inspirational. We have already recommended Dave the Franchise Maker and know he will be an important part of our success for a long time."
Dennis Quaglia, Severn Crow and Mikel Ross, Owners – Camp Run A Mutt

---
"I have worked 23 years in the industry working for multiple franchise companies in a management capacity. When my business partner and I started our franchising endeavor I thought we had a good understanding of the process and thought it would be fairly easy to do ourselves, were we ever wrong! After realizing how difficult the task would be we investigated multiple companies to help guide us through the process. The cost of most of these companies was astronomical and they were using boiler plate templates to compile most of our information. We wanted someone that could mold our idea into a working concept. We had concerns about finding the right fit and finding someone that could understand our vision. After comparing multiple companies we shortened our list to a few top candidates. We made the decision to fly out to San Diego to meet with The Franchise Maker. After meeting The Franchise Maker team and spending some time with them, Dave eased our concerns and we knew we had the right man for the job. Although there are a lot of franchise companies in our industry, we felt what we were doing was completely unique. Dave helped us design a unique plan that I believe make us formidable opponents in the restoration industry. Dave is focused, on task, and dedicated to making you a success; I can't imagine using anyone else!"
Scott Tetley, Founding Partner – Masters of Disasters

---
"Working with The Franchise Maker was one of the easiest processes that we have encountered in our years of business. When we first considered franchising (instead of contracting photographers in different cities) we knew that contracting photographers wasn't going to work for our realtors, which left only the idea that franchising would be a better approach. We had no clue of how to create a successful franchise, so we started doing the research and found The Franchise Maker. At first I was concerned about the distance between San Diego and Wichita, Kansas and not being able to sit across the table and hammer out important details about our business. After the very first phone call with Dave Waldman at The Franchise Maker we were not only relieved that he had a sound process, but that my concept had merit and franchising could be legally completed in only a few months. The entire franchising process was completed over the phone and internet, including CPA, Franchise Attorney and Trademark Attorney correspondence! Today we received our completed Franchise Disclosure Document and we are 100% satisfied with the outcome and excited to roll it out to potential franchisees. We are now totally prepared to take on North America and we know for a fact if we have any questions, or concerns, that Dave is a phone call away."
Anthony Litton, CEO/President – AEV Real Estate Photography
---
"I started the franchising process unsure about many of the details and unsure if I even wanted to go through with it. I spoke to a couple different franchise consultants and franchise development companies and they didn't qualify my query like Dave with The Franchise Maker did. Dave really made me think about the full scope of franchising and gave me honest answers. I had an initial conversation with him, then took some time to digest our conversation and think about if franchising was really in my future. Later I came back to Dave with updated plans and a few tweaks hoping that he felt I was in the right place to franchise. Dave really listened to what I had to say and after a few more conversations he felt I was ready enough to take my company on. I realize I was a little more of a difficult case because I am a unique business which is not known to do franchising. In other words I am not your standard food business. Dave took on the challenge and was able to get me to the finish line. He was very patient with learning about my company and understanding every aspect.
Dave is very thorough and knows his stuff. He is prompt and punctual. Every meeting he called me right at our scheduled time. Another thing I appreciated with Dave, is how understanding he was if I needed to adjust meetings here and there. As a business owner, my life is busy and things come up. Dave continued to guide me through the process with my adjustments and keep me on track. Dave is extremely knowledgeable about all aspects of franchising.  He was able to walk me through all the technical details and help me determine certain strategies and criteria for my franchise model. We had zero comments from the state on our whole package once filed. We were approved by the state in less than two weeks of submission. The Franchise Maker was the right company for this whole process. I highly recommend The Franchise Maker to anyone considering franchising their business."
David Lopez, Founder – MediaCentric
---
"Now that I have completed the franchise process with The Franchise Maker and have approval for franchising, there is no doubt that all the testimonials must have experienced the same great communication and professionalism that I encountered. In my opinion all the reviews including my own, understate Dave's personal approach, caring and great follow through on every phase of the process. Working with Dave has been an unexpected pleasurable professional experience as Dave explains in depth the procedures and guides you through a weighty regulatory process with calmness and ease in language you are able to understand. Dave works at your pace and schedule, since many of us are busy operating successful businesses.
I consider The Franchise Maker's fee to be one of the best dollar to value professional expenses that I have spent. The Franchise Maker fees are broken into payments to make it easy to get the process started. Dave is a true professional who doesn't waste your time and is concerned about my business as much as I am. Dave also provides information on franchise registration processes in other states, without charging additional consulting fees."
Rob Toscano, Managing Director – Island Beauty Supply

Contact us NOW to Franchise Your Business!